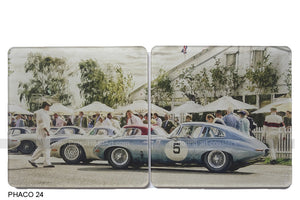 E-Type Jaguar Coasters at Goodwood
E-Type Jaguar Coasters at Goodwood
These stylish E-Type Jaguar Coasters at Goodwood capture this unique moment of e types getting ready to race at Revival whilst acting as a great piece of usable table art protecting your table from a well earnt drink, especially being a whopping 10.5 cm 

Great as a present for any fan or a bit of self indulgence for your living room, kitchen, man cave or office acting as a fun talking point and you can even use them!


E-Type Jaguar Coasters at Goodwood
Are shatterproof from a durable acrylic made here in the UK, simply cleaned with a soft cloth and warm soapy water if needed, finished with 4 non slip rubber feet.

From the growing range, designed and photographed by Rob Paston including Harleys, VW's to Aston's and Ferrari's so as a bike or car fan, if you like this, have a look and never put your glass or mug on something dull again!
Also available in my art for sale section as a larger piece of art or greetings card.
This coaster set includes 2 coasters.