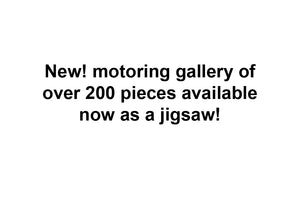 Choose from over 200 designs
Now available, my whole motoring gallery of over 200 designs as a jigsaw! 
Pheewwww! As I re do the website for Jigsaws, please 
1) simply click here for over 200 iconic pieces 
2) Note the PHA number in the Request a sample quoting "jigsaw 250 500 or 1000" depending on how many pieces you want. 
3) I will send you an email sample and a link to pay when your 100% happy
Or for an almost human response simply call me Rob on 07980 801011 Thankyou!
1000 piece puzzles (68cm x 44cm) £49 including free Delivery

500  piece puzzles (54cm x 40 cm) £39 including free Delivery
250 piece puzzles (36cm x 24cm) £29 including free Delivery