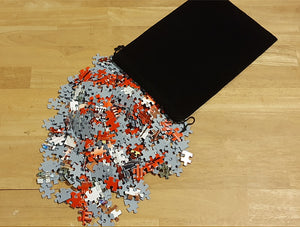 Your Photo to a jigsaw puzzle
Your photo to a jigsaw puzzle, with a twist!
If you are looking for personalised gift then a jigsaw puzzle is still a perfect way to not only enjoy the memories of the photo, pass spare time but confirmed as a great way to keep your mind active piece by piece with that sense of achievement at the end.  Especially when you have watched everything on Netflix or Prime! 
But here's my unique offering, as a digital artist I can transform and retouch your pet, family photo, holiday, bike or car photo and turn it into a great puzzle bringing out, more quality, depth and no blocky dark bits where others just press print. 
Also... as an extra twist and challenge the clue picture is a quality usable place mat (normally £15) wrapped in brown kraft paper with your personal message and my best joined up writing inviting the recipient to take the #nocluejigsawchallenge.
Imagine the ahhhhhh! moment when they start to get an idea as to what it is, or give in and see for the first time when the clue is unwrapped or the sense of achievement, finishing it without a clue!
1000 piece puzzles (68cm x 44cm) £49 including free Delivery for February

500  piece puzzles (54cm x 40 cm) £39 including free Delivery for February
250 piece puzzles (36cm x 24cm) £29 including free Delivery for February
Made in the UK by hand using top of the range materials 

Includes all editing to make your puzzle perfect 

Puzzle in a bag Luxury quality pouch for the 1000 piece option

The image is printed on a quality usable placemat wrapped in an envelope for that extra element of a surprise when given as a gift

Shipped in a post friendly box 
Simple Process.
Order the size puzzle you would like x250 x 500 or x 1000
Email your photo below or to rob@petrolheadart.com for a free sample 
I will then email an actual sample back to you to confirm all is ok 
Any questions always feel free to call me (Rob) on 07980 801011